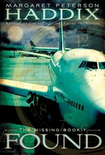 Clarksville Valley High School is the high school where the adoption conference was held. Chip, Jonah, and Katherine went there with Michael Skidmore and Linda Skidmore. This is where they find the other thirty-six Missing Children and where they are sent back in time in Sent. It is a fairly new school with newly built houses surrounding it.
Ad blocker interference detected!
Wikia is a free-to-use site that makes money from advertising. We have a modified experience for viewers using ad blockers

Wikia is not accessible if you've made further modifications. Remove the custom ad blocker rule(s) and the page will load as expected.