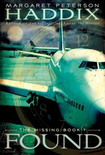 The Liston Public Library is the library where Jonah, Katherine, and Chip first met with Angela DuPre on October 7th at 3:00 PM. It is about two or three miles away from Jonah's house and the conference room is glass on three sides. Katherine used to have Brownie meetings there when she was little.
Ad blocker interference detected!
Wikia is a free-to-use site that makes money from advertising. We have a modified experience for viewers using ad blockers

Wikia is not accessible if you've made further modifications. Remove the custom ad blocker rule(s) and the page will load as expected.