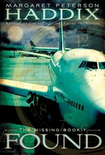 "That boy is just bad news." Queen Jackson to Nila Holcomb The Found page 135
Nila Holcomb is a student who goes to the same school as Jonah, Katherine, and Chip. The only time she is mentioned, Queen Jackson is giving her advice, "That boy is just bad news.". She is only mentioned in Found.
Appearances
Edit
Found (Book one)
Ad blocker interference detected!
Wikia is a free-to-use site that makes money from advertising. We have a modified experience for viewers using ad blockers

Wikia is not accessible if you've made further modifications. Remove the custom ad blocker rule(s) and the page will load as expected.