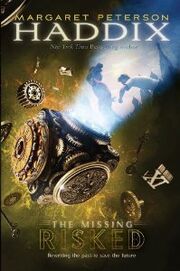 Risked is the 6th book in the series. It was released on September 3rd 2013. Originally book 6 was to be entitled Kept.
It's a paradox: When Jonah and Katherine find themselves on a mission to return Alexei and Anastasia Romanov to history and then save them from the Russian Revolution, they are at a loss. Because in their own time, the bones of Alexei and Anastasia have been positively identified through DNA testing.
Ad blocker interference detected!
Wikia is a free-to-use site that makes money from advertising. We have a modified experience for viewers using ad blockers

Wikia is not accessible if you've made further modifications. Remove the custom ad blocker rule(s) and the page will load as expected.