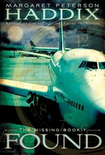 Sarah Puchini is one of the Missing Children in time. Her true identity is yet to be revealed. Katherine Skidmore remembered her name from the Survivors list on James Reardon's desk. She has long blond hair that covered her name tag in Found.
Appearances
Edit
Found (Book one)
Ad blocker interference detected!
Wikia is a free-to-use site that makes money from advertising. We have a modified experience for viewers using ad blockers

Wikia is not accessible if you've made further modifications. Remove the custom ad blocker rule(s) and the page will load as expected.