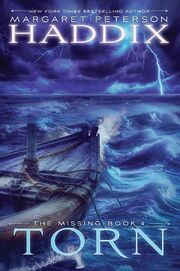 Torn is the 4th book in the Missing Series. It was released on August 23, 2011.
Jonah and Katherine land on the decks of the Discovery, moments before a mutiny on Henry Hudson's ship. Struggling to survive in the icy waters of James Bay, JB reveals that John Hudson, one of the kids stolen from history and Henry Hudson's son, is missing, and Jonah will have to play his part. Second, a traitor from Sabotaged, has disguised himself as Abacuck Prickett (first mate and advisor to Henry Hudson). He has promised Jonah and Katherine that if they fix 1611, they can save JB (who is another time traveler and new friend who helped start all this), Brendan, Antonio, and Andrea from 1600. Jonah and Katherine must survive the 17th century boat, with unlikely "help" from two sailors, Wydowse and Staffe. But later when they find out that Second was disguised as Abacuck Prickett, Katherine accuses him of murdering or poisoning Wydowse. Jonah and Katherine escape the boat after a docking, and manage to get into the Damaged Time of 1605. They help their friends, with Jonah rescuing everyone from the fire of 1605 (and that JB almost dies) that supposedly kills Brendan, Antonio, and their artwork. It then turns out that Second sent John Hudson to 1605. John Hudson, who is called Dalton Sullivan, was already in 1605, living in England. JB then concludes Second unraveled time from 1605 to 1611, and is sealing off his new version of time, which in other and simpler terms is his own and new alternate universe. JB returns them to the 21st century. Jonah then tells JB the future looks bright.JB tells him they are suspending time traveling for a while, because they have to learn more about how much Second messed up time and his new version of time.The book ends with Brendan and Antonio asking him to play a game with them and JB tells Jonah to go on and have fun. JB turns around but Jonah hears the second part of what he said 'Have fun... While you still can...
(Official Summary)
Ad blocker interference detected!
Wikia is a free-to-use site that makes money from advertising. We have a modified experience for viewers using ad blockers

Wikia is not accessible if you've made further modifications. Remove the custom ad blocker rule(s) and the page will load as expected.